Euphorbia
Euphorbia are beautiful and dangerous.  If you understand them, they can be an asset to your garden.  If you don't, you may find yourself in some major pain.
The enemy of my enemy is my friend:
Pocket gophers are a challenging foe.  However, there are a few groups of plants that gophers will not touch.  One of these is the Euphorbia genus.  As you might imagine, gophers keep their distance from this plant for good reason and the plants in his group need to be respected by us as well.  Therefore, the majority of this post will be a cautionary tale and some unsubstantiated advice on how to deal with Euphorbia's menacing features.
Euphorbia Species:
The Euphorbia species is a surprisingly diverse appearing group of plants.  The phenotypic expression ranges from looking like a columnar cactus to leafy thorny ground-cover.  Euphorbia are originally from "The Old World" which for the most part means that they are from Africa.
Euphorbia encounter:
My first encounter with Euphorbia occurred when I was cutting some plants around the yard.  My final task for that evening was to take some cuttings from a beautiful bush like succulent growing in a far corner of my yard.  The plant had long pencil like branches with no leaves.  It seemed interesting and harmless enough so I cut a branch to grow the cutting.
Not a good idea. 
Cutting a large branch was easy enough; however, I was surprised by the large amount of milky sap that seemed to jet out of the plant as if it was under pressure.  This Elmer's glue like sap prayed accost my arm and was particularly sticky.  I didn't think too much about it at the time.  However, somewhere in my primitive mind, I remembered something about white sap being dangerous so I quickly and diligently washed it off.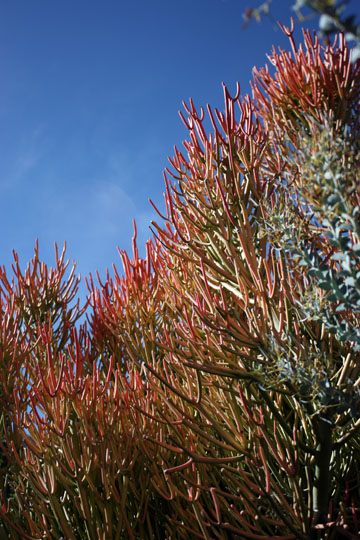 Euphorbia tirucalli. Sticks on Fire
Later that night:
At about 2am I awoke from sleep with the distinct sensation that my arm was on fire.  It felt like white hot fire.
Once I got my bearings and began to wake up, I realized that the house was quiet and there was no smoke.
However, the unnaturally intense burning pain persisted without explanation.  Then it dawned on me; the pain on my arm was in the same place where the sap had landed earlier.
Frantically:
My computer didn't seem to start up fast enough as I was desperate for some answers.
Through the adrenalin, I identified the culprit plant as Euphorbia tirucalli.  (you-FOR-bee-uh teer-ooh-KAL-eye).
The plant also goes by many different common names: (Firestick Plants, Indian Tree Spurge, Naked Lady, Pencil Tree, Rubber-Hedge, Sticks on Fire or Milk Bush).
Treatment:
I found a variety of suggestions for immediate care.  However, the following general suggestions would probably work for many different types of toxic plant sap.
The best first step is to get the sap off of you as best as you can. The faster the better b/c Euphorbia sap dries fast and then it is harder to remove.
Removing Euphorbia sap is particularly difficult b/c it acts a bit like glue and dries clear.  Even when you think it is gone, trace invisible residue can cause major symptoms.
Therefore some sources recommend that you wash the area for at least 15 min… or in my experience more like > 30 min.
Soap, water and time.  Some people say milk works for some reason, but I didn't try that.
But don't take my advice.  If this happens to you see a medical professional.
Additional pearls of treatment information:
Don't wash off the sap while over dirty dishes in the sink because it may then stick to your dishes.  You don't want to ingest even a tiny amount of residue from this powerful toxin.
Discard anything that you think might have sap on it.  The sap can cause problems later even if you don't see it.  Throw away whatever you used to clean yourself with when you are done.
IMPORTANT, if you are in the shower trying to wash off the sap be very careful.  Think about how the water drains off the area you are washing.  One could easily wash the sap residue to another, uhh… vulnerable place downstream on your body. You definitely don't want to damage your extra sensitive body parts.
Overall, if you get the sap on your skin, or worst, in your eye or ingest it, you should see your doctor or go to the hospital ASAP… But please don't drive yourself because the pain is very distracting-making it unsafe to drive. If the sap is in your eyes it can cause blindness (obviously not good while trying to drive either).
Benadryl may help with the redness but the main thing is to remove the sap.  Depending on how bad things are, your physician may give you additional medications such as anti-inflammatory steroids.
How bad is it?
As mentioned, the sap is the big problem and is extremely toxic.
It causes burns, and can cause blindness if it gets in the eyes.
I have also read some articles implicating the plant as a cause of an aggressive type of lymphoma. This cancer may in part be a result of ingesting the sap as part of folk "herbal remedies."
More acutely, many people have died after a minimal amount of sap ingestion.
So beware, stay away, and keep it away from kids and animals.
Back to the gophers:
Because of my traumatic experience, euphorbia plants were once my least favorite group of plants.  However, I can forgive.  More importantly, I have figured out how to make this liability into an asset.
For example, there is a daunting slope on one side of my yard where little more than weeds grow.  Gophers have settled into this area and their digging has made the erosion problem rather severe.
So I thought about it a bit and the natural solution is Euphorbia.  Gophers won't eat it and may even avoid the area where the roots grow.  The plants also thrive in the dry soil of a slope and I don't have to worry about the sap because no one should be walking around on the slope.
Plant Care:
This plant grows very well in dry environments, often with no irrigation once established.
They are originally from Eastern and South Africa but they have adapted all over the world.
In some areas, such as Brazil, it is grown it as a fence. I can imagine that is very effective as a fence b/c no one wants to touch the thing twice. Some websites discuss how the plant can be trained and shaped. But that requires putting yourself in major danger.
 For a list of gopher resistant and nonresistant plants, check out my post from 8/28/13.
Here's some additional euphorbia info that I found useful/interesting online:
http://en.wikipedia.org/wiki/Euphorbia_tirucalli
http://www.nature.com/bjc/journal/v88/n10/full/6600929a.html
http://www.homegrownevolution.com/2010/04/least-favorite-plant-euphorbia.html
http://www.hort.purdue.edu/newcrop/duke_energy/euphorbia_tirucalli.html
http://plantsarethestrangestpeople.blogspot.com/2009/01/cigarette-smoking-man-euphorbia.html