Cereus Cactus
(Cereus peruvianus)
(AKA Cereus hildmannianus)
Cereus Peruvianus Overview:
Cereus Peruvianus  is an under appreciated fast growing cactus with delicious fruit.
Cereus fruit appearance:   
The cereus fruit is definitely not as sexy looking as its cousin the Dragon Fruit.  However, it is just as tasty (if not more so).
The Cereus Peruvianus is an ovoid smooth skinned (thornless) fruit with orange-red colored skin. The skin of the fruit will turn from blue-purple to orange-red when ripe.
The fruit will also often split when fully ripe.
Some varieties will have pink or yellow colored fruit.
The size varies significantly even on the same branch, but most will fit in your hand.
Cereus fruit taste:  
The taste of the Cereus Peruvianus is a big surprise. The flesh is crunchy and melting like shaved ice. Yes, it is deliciously hard to believe.  The melting crunchiness is like some kind of delightful candy.


The fruit is also refreshingly juicy.

Inside the flesh is white

and somewhat crystalline in texture.  The white flesh is speckled with small pleasantly crunchy black seeds.The crunch-of the seeds is similar to a kiwi fruit.


The sweetness is similar to sugarcane.

The flavors are very subtle fruity/floral and very very subtly tart.


The outer skin is easy to peel, and sometimes the skin just falls off.  The peel is not eaten.
Video taste test:
Here is a video of one of my friends trying this tasty fruit for the first time (see below):
More tasting references: 
Here is a link to an article I wrote about the taste of Dragon Fruit compared to Peruvian Apple Cactus. There is a cool taste testing video in that article too.
Cereus fruit season:  
This plant has fruited at multiple different times for me.  So far there are at least two seasons that I have tracked: (August-October) and (December-January).
Cereus pollination: 
Cereus pollination is likely from bats or moths given the nocturnal blooming of the flowers.
I haven't tried hand pollination, but I suspect that it may help the overall crop number and size.
Cross pollination:
Various reports state that some of these cacti are self-infertile aka "self-incompatible" and others are not.  Sorry, I know this is lame.  Here is a link to a research paper out of the Negev Desert of Israel suggests Cereus cactus are self-incompatible.  https://www.hort.purdue.edu/newcrop/proceedings1993/V2-486.html
 In all likelihood the plants will not be labeled as a particular strain when you go looking to buy one.  As a result, you may want to consider getting more than one genetic strain for cross-pollination (just to be sure).  The different strains may be distinguished by slightly different branch rib pattern or thorn pattern.  The color of the cactus may help.. but it may not-could just indicate different amounts of fertilization or water.  Some varieties have yellow skinned fruit.
Again, I am not totally sure about this idea of them being self-incompatible, bc I have had fruit set on my cactus when I only had one cereus cactus in the yard.  So perhaps I happen to have a self-fertile variety, or one of my neighbors has a cereus cactus that acted as a pollen donor… or that perhaps (maybe) my dragon fruit cactus did the cross pollination.
Here's a time-lapsed YouTube video I recently made of the cactus flowering over 3 days.
I also recently caught a natural pollinator in the act. Check out the spooky video below.
Cereus landscaping use:
This is a very fast growing columnar cactus. In the right conditions it will grow 2-4 feet a year. Mature cactus are often over 20 feet high with many branching arms.  However, the cactus is easily trimmed with a machete.
There are only a few spines/needles on the cacti.
The flowers are big and bold but they only open for one day; primarily at night.  The large flowers look a lot like Dragon Fruit cactus flowers and I strongly suspect this flower similarity is a clue to the very close genetic relationship between the two cacti;  (which is yet to be determined).
Many people have reported that the Cereus cacti also grow well in containers.
Cereus propagation:
These cacti are very easy to grow from cuttings.
I recently trimmed (ok, I chopped) one of the branches of one of the Cereus cactus because it was growing in the way of a path. I felt terrible about throwing the branch away so I dug a hole in some sandy soil, added some grow mulch and stuck the cut end of the cactus in there.  I didn't even wait for the cut end of the cactus branch to harden off.
Its been about 8 months now since I did that and the new cactus cutting is about 3x the size of the original cutting and it is currently flowering!  Below are some photos taken 8/26/13 of the healing cut branch from the mother plant and the vigorously growing cutting that is also currently flowering.  In the photo of the mother plant you can also see that new branches are growing from both the edge of the cutting from the mother plant and from the base of the transplanted cutting.
I am thinking of trying to grow from seed next.  Ill keep you posted on the results.
Cereus soil: 
Cereus should have well draining soil.  I planted most of the ones that I have on a slope to help with drainage.
I have not found a lot of specific information about soil preference.  Some sources have said that these particular cacti are tolerant of a wide variety of soil types.  That being said, I have noticed that they appreciate organic material in the soil.  For example, I planted one cutting in just sand/DG and the poor thing is yellow and has hardly grown while the other ones planted with augmented soil are doing amazing well.  I have had success with a sandy loam, which is basically sand/DG like soil mixed with about 30% grow mulch.
For almost all of my cacti(except the dragon fruit), I have avoided using soils with sphagnum moss.  Sphagnum moss will help the soil to retain moisture which is good for most plants but will predispose typical cacti to deadly root rot.
 Cereus water:
Although this is clearly a cactus, it seems to need more water than the other cacti that I have planted nearby.  The first time I noticed this, I was surprised to see the branches of this cacti actually go limp when I neglected to water it for a few weeks.
Depending on where you are and where you plant your cereus, it will likely need at least every other week watering during the dry summer months.
Sun:
Full sun is best for fruiting.
However the Cereus will also grow in the shade or even inside by a window as a houseplant.
Cereus fertilization:
I have not seen anything specific about fertilization for cereus cacti.
I have experimented with different soil planting preparations and this has seemed to make a big difference for growth and fruiting.  For example, I have planted one cutting without any soil augmentation and that poor thing is very yellow compared to the other cuttings that I planted with augmented soil.  So they need at least some fertilizer.
Adding grow mulch to the planting soil is a great way to get the cacti started.  However, if your cactus is already planted, I would think that a top dressing of rich grow mulch around the root zone in the spring should be a safe start for regular fertilization.  I would just be sure to keep the organic material a safe distance from the plant itself so not to induce any rotting problems.
Cereus temp:
We had a cold snap in San Diego with temperatures down to about 28F and this cactus didn't seem to notice.
I have read that the Cereus cacti are hardy down to about 20°F.
3/11/14 update:
Doug Schulz, a contributing reader from Gilbert, AZ has just added more insight on the cold tolerance of Cereus cacti. He states that "When we have very cold winters, down to maybe 18 degrees F, the tips will freeze and yellow and deform, so I take styrofoam cups and put on the tips. Protects it well."
(see comments section below this post for more)
Pests:
The only pests I have seen are some aphids on some of the Cereus flowers.
Those bugs go away easily with a quick blast of water from the garden hose.
Cereus Cacti Diseases:
There are several important diseases to be aware of.  Unfortunately there is not a lot written about this topic. However, there is a bit more info about Dragon Fruit (Hylocereus) Disease. Since both Cereus Cacti and Dragon Fruit cacti can get the same diseases, the information is somewhat transferable. Since I have had a lot of difficulty finding a complete source of information on the subject, I decided to create a disease guide myself.  For more information, please check out that article titled Dragon Fruit Diseases.
Food Use:
I like to just eat cereus fresh out of hand or spoon it out.  It's really a tasty treat.
It is additionally refreshing after it is chilled in the frig a bit.  However, prolonged refrigeration (more than a day or so), seems to make the fruit kindof sticky.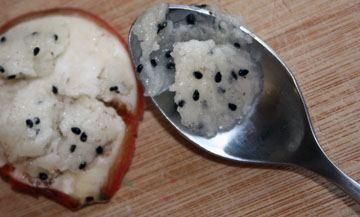 Misc:
There seems to be a lot of misinformation out there about this cacti.
The name would suggest that it is native of Peru.  However, most reports state that it is actually native to Brazil, Uruguay, and Argentina.
There also seems to be a lot of debate and confusion about the nomenclature of this cacti.  I have chosen one of the most common names to title this blog but it has also been named:  Cereus repandus, Peruvian Apple Cactus, Giant Club Cactus, Hedge Cactus, cadushi, pitaya, kayush and Night Blooming Cereus.
A great contributing reader (Constantinos Shouftas from Cyprus) has also provided additional insight about the different scientific names for this cactus. According to the USDA, this cactus is also known as Cereus hildmannianus, Cereus uruguayanus, and Piptanthocereus peruvianus.  Now that is really confusing.  From personal experience, when the scientific community cant even agree on what to name something, it usually means that there is limited organized information about the topic.  Perhaps together we can change that as we all add to this shared source of information.