Overview:
Squirrels are trouble.
There are a lot of different methods available to get rid of squirrels, each with their own pluses and minuses.
I am putting this article together in hopes that it will be a foundation on which we can build.  Please share your tips and insight in the comments section of this article so others can benefit from your experience.
Hopefully this article can become a place where we can share ideas in the way that the article on gopher resistant plants is becoming.
Why get rid of squirrels?
As you may have recently read, squirrels can carry and transmit the Bubonic Plague!  This disease is also known as the Black Death and it is the scourge that killed half of the people in Europe during the middle ages. Please see my recent plague warning article.
This might be reason enough to get rid of this menace, but there are many more reasons.
These rodents are also very destructive.  They will tear your yard apart, chew through irrigation lines, eat your plants, and steal your produce.  They can also do serious structural damage to foundations and to retaining walls.  Of course their holes can also be a walking hazard.
These destructive rodents seem to bubble up from the ground like some sort of evil spawn.  They will not go away on their own.  Its better to act fast than to wait.  It is easier and less expensive to control a small population.  If you do nothing, they will take over.
Evidence of squirrels living in your area:
These varmints can be rather stealthy and may be hard to spot.  However, they do leave a characteristic imprint on the area where they vandalize.
The California ground squirrel, (Spermophilus beecheyi) is a burrowing animal.  It prefers to dig its den under large boulders, rocks and wood piles. Foundations of homes/structures are also on their list of preferred sites.  In the process of digging out their dens, they can damage all kinds of important things for your house.  In addition, once they make that burrow-hole, other animals such as snakes and poisonous bugs can also move in.
The holes for their burrows are usually 4 to 6 inches in diameter.  They also usually leave the burrows open for a quick getaway.  This open characteristic will distinguish their holes from those of gophers or moles.
Ground squirrels typically live and forage within a 75-yard radius of their burrow.
Ground squirrels live in colonies that can include several dozen animals in a complex of burrows. More than one squirrel can live in a burrow.
These guys will also eat all kinds of plants and even bird eggs. I have noticed that a staple dish for them seems to be the fruit of the ubiquitous ice plant.
Ground squirrels are active during the day, mainly from midmorning through late afternoon
How to get rid of squirrels:
The following excerpt is from the University of California agriculture & natural resources.   The California Fish and Game Code classifies ground squirrels as nongame mammals. An owner or tenant can control, in any legal manner, nongame mammals that are injuring growing crops or other property; tree squirrels, on the other hand, are classified as game animals and have a hunting season.  No license is required if it is the owner or tenant who is taking ground squirrels that are causing damage. A trapping license from the California Department of Fish and Game is required for those who are trapping squirrels for hire or profit.
Note: different methods are more effective at different times of the year. See table below.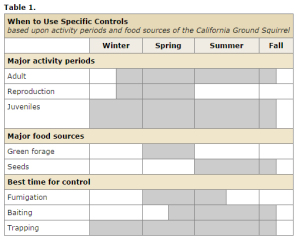 Below I will highlight some methods that I am familiar with. This is by no means meant to be a complete list.  If you have additional ideas and/or success with other methods please let me know in the comments section and I will add it to the list.
(note: The U. S. Fish and Wildlife Service classifies the Mohave ground squirrel, S. mohavensis, and the San Joaquin antelope squirrel, Ammospermophilus nelsoni, as threatened species; therefore both are protected animals. Although you are unlikely to misidentify either of these relatively small squirrels as the much larger California ground squirrel, their ranges could overlap in some areas).
Squirrel harassment:
Ground squirrels live in burrows that they dig out or take over from other animals.  They also don't like to wander too far from the safety of that nest. Therefore, I have recently employed a policy of harassment.   I have been filling the holes with all kinds of strong smelling things to kick them out. I have also been filling the holes back with soil.
Results:
Ammonia doesn't seem to do much, Chili pepper flakes and Sriracha is mildly effective for a few days. The best option that I have noticed is to shove some wire cloth/mesh down the hole and cover it up with soil. For this purpose, I use the same type of wire cloth material that I use for making gopher cages. These rodents also like to make their home in piles of wood, rocks, trash, etc. Therefore, removing these potential living areas is also key.  It is also a great idea to repair all holes or other routs of entry into your home.  You want to make sure they cant get into your house, garage or attic.
Positives: Cheap, and a good idea regardless.  Squirrel holes may be abandoned for a variety of reasons. However, filling it back up with soil will help to prevent another squirrel from taking it over.  Getting rid of the holes will also help to keep other unwanted animals out.
Negatives: This process takes some time and effort. Where there is one hole, there is usually at least another; (they like to have multiple escape routs).  However, just removing their dens will not remove the threat.  These guys can be persistent.  In addition, you may potentially become exposed to contaminated soil when messing with their dens. Please refer to CDC protective clothing recommendations. Note, other dangerous creatures such as rattlesnakes, spiders and scorpions also like to live in similar areas or take over old squirrel holes/burrows. Call a professional.
Food management:
If they don't have food they are less likely to hang around. However, I have discovered that these vermin will eat just about anything.  They also do have a special preference for fruit, so picking your produce as soon as/or just before it is fully ripe can help. Cleaning up dropped fruit is also very important for this and other reasons.
Cleaning up and managing pet/livestock food is critical.  The fruit of the ice plant seems to be their 'bread and butter', so if you are looking for 'ground cover', I would consider another option.
Positives:  This is a good idea anyways and keeps other pests away.
Negatives: Picking your fruit too early is not always the best option. Sometimes those darn squirrels will just eat the fruit before it is ripe anyways.
Scare/Dissuade squirrels:
Using things like scare tape and mylar pinwheels is pretty effective at keeping the vermin off of your developing fruit in the short term.
Spraying leaves and fruit with water and then coating with chili powder or chili flakes works quite well at keeping them uninterested in your plants/fruit.
Positives: Organic, cheap, effective.
Negatives:  If this is all you do you will still have squirrels in your yard. They can get use to the scare tape if you leave it up all year. The chili power/flakes washes off in the rain.
Squirrel Traps:
There are live traps and kill traps available.
I recently got this small live animal trap on Amazon. It is actually pretty darn amazing… I can catch squirrels just about every day that I set the trap.  Unfortunately, there are significant drawbacks to using a live trap… and from my research it looks like I will have to stop using it (see discussion below).
So then there are kill traps.  The University of California agriculture & natural resources recommends using box traps, tunnel traps, and/or conibear traps.   The University of California agriculture & natural resources was pretty specific about the exact type of conibear trap to use and here is a link to one with great ratings on amazon. Conibear trap No. 110, with a 4 1/2- by 4 1/2-inch jaw spread.  However, the term "box trap" and "tunnel trap" is so generic that I dont feel confident providing a link to one of those at this point.
Positives:  Traps remove the vermin from your property. Good karma if you are using the no kill trap. In general traps work amazingly well.
Negatives:  This excerpt is from University of California agriculture & natural resources:  Traps are practical for control when squirrel numbers are low to moderate. Live-catch traps aren't recommended, because they present the problem of how to dispose of the animals. Because ground squirrels carry diseases and are agricultural pests, the California Fish and Game Code specifies it is illegal to release them elsewhere without a written permit.
Note, a live squirrel in a trap needs to be treated with caution. These things are wild animals and have nasty large claws.
On the other hand, I have heard that some people will drop a live trap in water to drown the animal. Sure this would work, but in my mind kindof runs counter to idea of using a live trap.  So then we are left with the option of a kill trap.
The trapped squirrel (dead or alive) may also be carrying disease such as the plague; please refer to the recommendations in the CDC letter.
For more info on the subject ck out the info from the University of California agriculture & natural resources.
Squirrel Poison:
There are a lot of different poisons and bait stations that you can get for squirrels.  These bait station boxes must be tamper-resistant so small children are not able to access the contents.
Positives:  They are pretty easy to set up and maintain. A bait box will help to prevent unintended animals (like dogs or foxes)  from getting into the poison.
Negatives: Whatever poison you used to kill the squirrels is likely to be present in their dead body.  If another carnivore eats that poisoned-dead animal, they may also die or get very sick. In this regard you could be reducing the number of beneficial squirrel predators in your area.  Your cat or dog could also become ill this way.
Since the squirrels go into the bait station, they may potentially leave some hungry fleas behind, which could potentially be a problem for you when adding more bait to the station.  That being said, I have never actually heard of this happening.
Dogs:
The right dog can both kill and scare away squirrels. Protect your dogs from the risk of the plague as much as you can. Flea and Tick Control products are one of many options.
Positives: Dogs are always working to please you and get the job done.
Negatives:  Plague infected fleas could jump from the squirrel on to your dog… and then on to you.  Please take precaution.
Birds of prey:
Raptors such as owls and hawks are excellent at keeping rodent populations under control.
You can actually do some things to attract these beneficial birds such as building/installing barn owl boxes and perches for hawks.
Positives: Natural, cheap and effective
Negatives:  It can be hard to attract these birds of prey in some areas.
Air rifle:
There is an entire industry built around the use of high powered air rifles for rodent hunting and control.
I recently bought a truly awesome air rifle made by the German company RWS. I am extremely happy with it.  I also did a ton of research before I settled on this fantastic rifle.  You can even get this amazing RWS model 34 air rifle on Amazon if you are so inclined.
To date, I have only used this gun for target practice.  I want to see how far I can get with nonlethal methods… Yea, I know I am a softie.  However, it is very clear to me that this thing is as powerful and accurate as any small game hunting rifle.
Positives: These guns are very accurate and powerful. They are also relatively quiet compared to a traditional rifle.  This quite-ness may be beneficial if you do not wish to alarm your neighbors with the sound of gunfire and it may even allow you to take another shot if necessary.  Finally, the ammo is very very cheap.
Negatives: These guns are not toys and need to be treated with the same respect that you would give any other firearm.  Pellets or BBs can ricochet, rebound, bounce or skip off a surface.   Missing your rodent target could mean doing other damage that you did not intend to. Again, this is a powerful weapon to be respected and to be used with ultimate safety.  There may be local laws and ordinances restricting the use of these weapons in your area.  Please consult local laws before use.
The next issue is how to deal with the dead animal that is potentially infected. Please refer to the recommendations in the CDC letter in my recent article on the plague and ground squirrels.
When using firearms to manage squirrels, don't use lead ammunition in areas within the historical California condor range.
Fumigation:
At this point I have no personal experience with fumigation control. Therefore, I have basically cut and pasted the recommendations on the subject  from University of California agriculture & natural resources article. The following is word for word from them as of today 9/17/14 (see below).
Fumigation is a relatively safe method of control. As with any pesticide, read and follow label instructions with particular regard for nontarget species and safety factors. Some fumigants can produce flames, creating a fire danger. Don't use these types fumigants where a significant fire hazard exists, such as near buildings, dry grass, or other flammable materials. To prevent fumes from accumulating in enclosed areas, never fumigate beneath buildings or in burrows that might open beneath occupied buildings.
Be aware of the signs of nontarget species inhabiting inactive ground squirrel burrows. Kit foxes will use an old burrow, enlarging the opening, and often creating a keyhole-shaped entrance. Active pupping dens might contain prey remains, droppings, and matted vegetation and show signs of fresh paw prints. The burrowing owl (Athene cunicularia) is another potential occupant of abandoned ground squirrel burrows. Don't treat a burrow if you suspect a nontarget animal is present. Fumigate only active ground squirrel burrows; county agricultural commissioners can provide additional information on how to recognize these.
Many county agricultural commissioners' offices sell United States Department of Agriculture gas cartridges, which are designed for fumigating burrowing rodents. Other types of fumigation cartridges also are available at retail outlets. Fumigation is most effective in spring or other times when soil moisture is high, which helps contain the gas within the burrow system. Don't fumigate in summer or when the soil is dry, because the gas more readily diffuses into small cracks present in dry soil, making it less effective. Don't fumigate during hibernation, because the squirrel plugs its burrow with soil, preventing fumes from reaching the nest chamber; you can't see this plug by examining the burrow entrance.
Treat all active burrow systems when fumigating. When using a USDA gas cartridge, puncture the end with a nail or screwdriver at the points marked, and rotate the nail to loosen the material inside. Insert the fuse into the center hole. Place the cartridge in the burrow as far as possible, and light the fuse. With a shovel handle or stick, push the lighted cartridge down the burrow, and quickly seal the opening with soil, tamping it down. Fill in connected burrows if you see smoke escaping. Larger burrow systems usually require 2 or more cartridges placed in the same or connecting burrow openings. After 24 hours, check for reopened burrows, and re-treat as needed.
June 12 2015 update: 
Irish Spring!
I have been reading that some people have used the soap Irish Spring to keep the Squirrel's away. Apparently they don't like the smell of that soap. The key seems to be to shred the soap in a cheese grater to extend the smell. I just tried this a few weeks ago and amazingly it seems to work! Here is a box of 8 bars of Irish Spring for cheap on amazon.