Disclaimer:
I am writing this because I think more people should know about this gem of a nursery in northern San Diego County.  This is not a paid advertisement, I just like the place.  I have no financial stake in Clausen Nursery.
Clausen Nursery:
Clausen Nursery is a family owned and operated business with the healthiest and most reasonably priced fruit trees that I have found.  Landscapers are in and out of here all the time getting trees… that should tell you something.
This is not a chain nursery in any respect.; don't expect frills.  The paths are dirt, the parking lot is on the side of a small street, and the checkout is in a shack.
However, what you will get is real down to earth people who care deeply about what they are doing.
The 20 acre nursery has over 200 varieties of common and hard to find fruit trees.
I have scanned in a recent product list (below).
Click on the list for a larger image.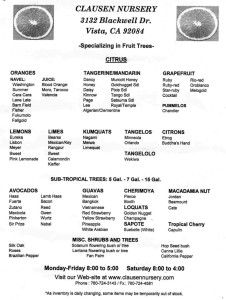 As you can see the prices are hard to beat (price list below).
Click on list for a larger image.
Family/Business History:
I had a chance to sit down recently with the owner Gordon Clausen and learn some history about the nursery.
Gordon told me that Clausen Nursery was started in 1930 by Edwin Stromberg.
Edwin migrated to the US from Sweden via Ellis island.  Edwin kept traveling west and finally found his home in Vista.  He was enthralled with the rich diversity of plants that could be grown in the area and he was one of the first to grow citrus, avocados and subtropicals in the Vista, CA area.
Edwin's daughter (Evelyn Stromberg) married Alvin Clausen.  Alvin also loved fruit trees and began working in the nursery in 1948 after his service in the US Navy.  In time, Alvan Clausen took over the nursery and continued to work there into his 80s.
Edwin's son, Gordon Clausen currently runs the nursery and is eager to share his 3 generations of plant knowledge with customers and visitors.
Location:
Clausen Nursery is located bit off the beaten path.  However, my GPS found it without any problem.
3132 Blackwell Dr. Vista, CA 92084
Official website:
http://www.clausennursery.com/
Support local business, save money and get a great tree.